Prevention: Vaccines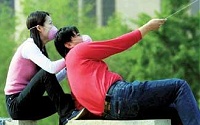 Vaccines have been tested on animals such as mice and rabbits and have provided promising results.
At the University of Pittsburgh in Pennsylvania, researchers found that after vaccine injections into six rhesus macaques (monkeys), all showed an immune response against the coronavirus - the cause of SARS.
Below all content of this page is listed by header title. Click on the link to go to a particular part within this page.
At anytime you can return to this list by clicking on 'Content Outline' at the end of each part.
"We genetically engineered a common cold virus and we inserted pieces of the SARS coronavirus"
- Gambotto
Gambotto and his team collaborated with scientists at the CDC (Centers for Disease Control and Prevention) and altered the common cold virus in order to express SARS coronavirus antigens. Six monkeys were injected with the vaccine and received a booster after 28 days. Two other monkeys were then given a dummy vaccine and did not show any response. The scientists now plan to test the vaccine on ferrets, which may develop symptoms of SARS after being infected.
Chinese and Canadian scientists have also said they plan to begin tests of a SARS vaccine in humans next year. Global health officials have warned that SARS could reappear in the upcoming year. At the University of British Columbia, the research has received positive results upon mice and rabbits in that they can now produce antibodies that will neutralize the coronavirus - cause of SARS.
SARS Quiz
In this quiz you will find questions based on the information available in Basic Guide, Virus and Prevention.


Crossword puzzle 3: Prevention
Online crossword puzzle based on Virus.


SARS Quest - Averting An Outbreak
In this short Flash game, you will be taking on the role of the Health Minister of the imaginary country of Asitwon. Your aim is to use all necessary means to prevent a SARS outbreak in the country.