Basic Guide: Recommendations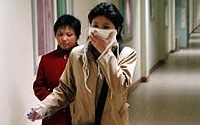 There are several procedures or guidelines that are recommended to individuals who might possibly be affected by SARS.
These recommendations issued by the CDC will help slow the spread of SARS and prevent further infections.
However, the individual affected must be aware of new warnings, especially the following recommendations for travelers and possible SARS patients.
Below all content of this page is listed by header title. Click on the link to go to a particular part within this page.
At anytime you can return to this list by clicking on 'Content Outline' at the end of each part.
There are two specific warnings issued by the CDC (Centers for Disease Control and Prevention): the travel alert and travel advisory. When a travel alert is issued, travelers with health concerns are recommended not to travel and follow certain precautions while a travel advisory urges one to postpone any travel plans.
However, if it is essential for one to travel, the CDC advised travelers, especially in SARS affected areas, to wash their hands frequently to avoid the spread of the infectious disease. Yet, the CDC does not recommend wearing facemasks in public unless you are a SARS victim.
1.3.1 Passengers wait outside Beijing's Western Railway Station. While China's sheer size can sometimes prevent diseases like SARS from spreading too far, they can still hitch a ride on the rails crisscrossing the country (used with permission of Lou Linwei, freelance photographer for TIME Magazine).
Possible patients must consult a health-care provider as soon as possible before it's too late. They must inform their health-care provider where they have traveled to recently and who they have come in contact with so the health worker can provide them with a more accurate analysis.
Also, basic precautions mentioned above must be followed for 10 days after symptoms of SARS have subsided. In the meantime, the patient must also be isolated from the outside environment (work places, schools, public areas) and avoid interactions with others as much as possible to avoid the spreading of SARS.
SARS Quiz
In this quiz you will find questions based on the information available in Basic Guide, Virus and Prevention.


Crossword puzzle 1: Basic Guide
Online crossword puzzle based on Basic Guide.


SARS Quest - Averting An Outbreak
In this short Flash game, you will be taking on the role of the Health Minister of the imaginary country of Asitwon. Your aim is to use all necessary means to prevent a SARS outbreak in the country.
When you locate your mouse on a
term
, a definition appears after a moment.