Virus: Structure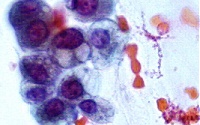 The coronavirus has the largest genome amongst the RNA viruses. Made of 30,000 nucleotides, the coronaviruses are divided into three categories. Group one are made of primates, carnivores and animals such as cattle, pigs, and deer while group two occupies the same animals in group one, in addition to rodents, birds, and animals such as horses, tapirs, and rhinos.
Distinctively group three is only found among birds. In each of these groups, coronaviruses are classified further into host range, antigenic relationships, and genomic organization.
Below all content of this page is listed by header title. Click on the link to go to a particular part within this page.
At anytime you can return to this list by clicking on 'Content Outline' at the end of each part.
Researchers from the Michael Smith Genome Sciences Center in Vancouver, British Columbia, and the National Microbiology Laboratory in Winnipeg, Manitoba were the first to complete the genome sequencing in April 2003. There has been speculation that the novel coronavirus is part of a new group of coronaviruses as the genome shows that the SARS-CoV is neither mutant of a coronavirus nor a recombinant between coronaviruses.
"SARS-CoV is apparently maintaining its consensus genotype and seems thus well adapted to the human host"
As the virus passes through human beings, SARS-CoV is apparently maintaining its consensus genotype and seems thus well adapted to the human host. However, genetic analysis is able to distinguish between different strains of SARS-CoV, which is of great value for epidemiological studies and may also have clinical implications.
Research has discovered that as the virus passes through humans, it maintains its original genotype. Yet through genetic analysis, researchers are able to differentiate strains of SARS-CoV.
SARS Quiz
In this quiz you will find questions based on the information available in Basic Guide, Virus and Prevention.


Crossword puzzle 2: Virus
Online crossword puzzle based on Virus.


SARS Quest - Averting An Outbreak
In this short Flash game, you will be taking on the role of the Health Minister of the imaginary country of Asitwon. Your aim is to use all necessary means to prevent a SARS outbreak in the country.