Prevention: International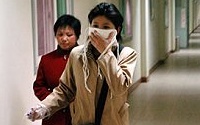 The World Health Organization (WHO) played a vital role in the containment of the first global outbreak of SARS. The WHO alerted the first emergency travel advisory in its history after additional reports were issued.
The alert was targeted towards international travelers, healthcare professionals and authorities, and advising those who traveled to SARS-affected areas to be aware of developing symptoms 10 days after returning.
Below all content of this page is listed by header title. Click on the link to go to a particular part within this page.
At anytime you can return to this list by clicking on 'Content Outline' at the end of each part.
According to the WHO (World Health Organization), the decision was based on 5 factors:
The causative agent was not known yet.
The outbreaks seemed to create a high risk for healthcare workers and close contacts of patients.
Antibiotics and antiviral drugs were used unsuccessfully.
There was increasing numbers of patients requiring intensive care as in Hanoi where 25 out of 26 hospitals and 24 out of 39 hospitals in Hong Kong were in occupied.
SARS had spread worldwide to North America and Europe.
These global alert and the global effort issued by the WHO prompted identification of cases, immediate isolation, and strict infection control in all countries except for China.
SARS Quiz
In this quiz you will find questions based on the information available in Basic Guide, Virus and Prevention.


Crossword puzzle 3: Prevention
Online crossword puzzle based on Virus.


SARS Quest - Averting An Outbreak
In this short Flash game, you will be taking on the role of the Health Minister of the imaginary country of Asitwon. Your aim is to use all necessary means to prevent a SARS outbreak in the country.