Impact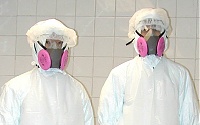 During the development of this website we received an e-mail from Christine Gaspar, a nurse from the North York hospital in Toronto. She advised us to consider the human factor and not only caring about the facts of SARS. Therefore we have added this Impact section.
We hope that you, by reading this section, will get a better understanding of the impact of SARS to the world.
Content Outline
All content of this section is listed below.
Impact of SARS
Fast Figures
References
Image above retrieved from http://www.eelab.com/gear.jpg. Image use is in line with the disclaimer (Pictures in this site can be used and distributed freely for education, diagnostic and humanitarian purposes) as stated on www.eelab.com.