Prevention: National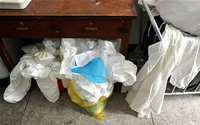 SARS surveillance activities in countries with or without SARS have taken immediate measures including the following: creation of an emergency operating center, designation of SARS hospitals, initiation of quarantine measures and rapid approval of pending legislation.
This is done in hopes to control the rapid spread of SARS. With no cure for this deadly disease, prevention is the only way.
Below all content of this page is listed by header title. Click on the link to go to a particular part within this page.
At anytime you can return to this list by clicking on 'Content Outline' at the end of each part.
In Singapore, the Tan Tock Seng Hospital, was designated as the 'SARS Hospital'. Schools and public events were cancelled. Those affected were enforced to stay home for 10 days while military forces track down the original source of the infection. Other measures were taken such as screening passengers at the airport and seaports, or disallowing any visitors for all public hospitals.
Meanwhile, in Taiwan, the Department of Health designated SARS hospitals throughout the island. The increasing numbers of patients forced the construction of 1,000 additional isolation rooms. Quarantine homes and campsites, which accommodated quarantined residents were enforced through web-based cameras.
At an early stage, SARS isn't always recognized; therefore, the best way is to quarantine those probable cases as soon as possible. In March of 2003, Singapore, Hong Kong, and Canada established quarantine and isolation measures. In Singapore, residents were quarantined in their homes and were forced to appear before web cameras often or else they had to wear electronic bracelets.
However, SARS might be transmitted in quarantined communities. See Virus for more information.
Hong Kong cancelled all travel between districts to reduce the transmission rate by 76%.
After discharge, patients in Singapore must stay home quarantine for 14 days where they are under telephone surveillance for 21 days.
SARS Quiz
In this quiz you will find questions based on the information available in Basic Guide, Virus and Prevention.


Crossword puzzle 3: Prevention
Online crossword puzzle based on Virus.


SARS Quest - Averting An Outbreak
In this short Flash game, you will be taking on the role of the Health Minister of the imaginary country of Asitwon. Your aim is to use all necessary means to prevent a SARS outbreak in the country.