Prevention: Genereal Measures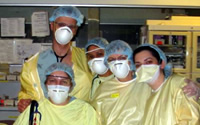 Hospital workers remain on the front lines in the global response to SARS. They are at considerable risk of contracting SARS when there is an opportunity for unprotected exposure. In order to protect healthcare workers and to prevent disease dissemination, strict infection control measures and public education are essential.
There are strict measures for everyone, especially healthcare workers who are most at risk. In hospitals, all healthcare workers must take their temperature twice a day.
Below all content of this page is listed by header title. Click on the link to go to a particular part within this page.
At anytime you can return to this list by clicking on 'Content Outline' at the end of each part.
Staffs are required to wear a N95 mask, gloves and gown when in contact with patients. To reduce the time spent with a patient, healthcare workers are divided into teams or groups so that if one group have been infected, there is still another team available to continue to work.
Hospital visiting is strict as visitors must follow certain measures. Visitors must pass a temperature check, wear a mask and are limited to only a single patient. As for the actual visits, they are done through video conference.
The main type of transmission in hospitals was by droplets. Therefore, the best protection for healthcare workers are N95 masks, not paper masks.
SARS Quiz
In this quiz you will find questions based on the information available in Basic Guide, Virus and Prevention.


Crossword puzzle 3: Prevention
Online crossword puzzle based on Virus.


SARS Quest - Averting An Outbreak
In this short Flash game, you will be taking on the role of the Health Minister of the imaginary country of Asitwon. Your aim is to use all necessary means to prevent a SARS outbreak in the country.