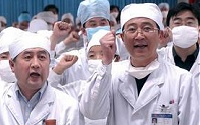 Severe Acute Respiratory Syndrome (SARS) was a serious global epidemic that suddenly emerged at the end of 2002 and which infected over 8,000 people and claimed over 700 lives. Untill today, no real cure has been discovered. The world is still on alert and the search for a cure continues.
In one of the rare moments of medical history, SARS has united nations and left untold heroes who had sacrificed their lives in battling the mysterious lung disease. SARS had left an unmistakable scar on the medical history. It is one that may never heal, yet doctors and scientists are still determined to fight on...
Flash introduction
If you don't know where to start, check out our Flash intro that will give you an overview of what you can expect and guide you through the major sections.
Start Flash Introduction (popup window, 328 kB)
What can you find on this site?
'SARS: An Open Scar', developed by an international team of students, provides the following sections:
| | | |
| --- | --- | --- |
| A run-down on everything you should know from the origin of SARS to how it spreads. | | This section provides in-depth explanation and coverage on the SARS coronavirus. |
| Get tips on how to prevent yourself from being infected by SARS. | | Find out why SARS is an open scar. Learn more about the effects of the outbreak. |
| Take a trip down memory lane for a glance of the outbreak. | | Test your knowledge of SARS by doing quizzes and puzzles. |
| A platform where teachers and students can get ideas on how to expand their learning. | | Listen to interviews and view photos for an inside perspective at SARS. |
You can read about the development and creators of this site in the About section. Also, for a glimps at the diversity of the site, please look at the Sitemap.
We sincerely hope that you will enjoy your e-learning!
Educational Purpose
'SARS: An Open Scar', takes a trip back in time to look at the SARS outbreak. We aim to provide concise yet detailed information on the SARS outbreak, prevention methods and the SARS coronavirus. This educational and informative site features fascinating pictures, in-depth case studies and even a classroom section for students and educators.
This site is a comprehensive resource on SARS, providing videos, interviews, and also an interactive timeline to enhance the learning experience. Included are also a search feature and a glossary to clarify dubious terms. In order to facilitate better learning of content, we have integrated charts and graphics to help the user visualise important concepts.
In creating this website, we want people to be aware of the impact of the outbreak and the unmistakable scar SARS left on the world.